Description
Modix Large Scale 3D Printers
Modix large 3D printers are more powerful and versatile!

Printing large objects as one part make them stronger
and it also saves time on post processing – no shim to hide.
Print multiple smaller items in one batch production .
Easy to customize design to better meet your own needs.
Open – use filament from any vendor and any slicing software.
Flexible – from 50 microns up to large robust objects.
Our printers are delivered as self assembly kits:
Better fit your budget – Lower purchase and shipment costs.
When you build it, you know it better and have a better control.
Many add-ons to fit your needs today and in the future.
Easy-to-follow video assembly guides & online 3D views.
Compact packing that passes through narrow doors.
Backwards compatibility, kits are easier to upgrade to newer versions.
Better fit your needs and budget. You build it, you know it, you own it!
Don't limit your future ideas, buy a larger printer today!
Modix Big-120Z 3D printer is a unique 3D printer that allows printing tall objects in one piece. 120Z is a perfect match for the needs of the: visual communication, interior design, art, mannequin, props , entertainment  and engineering industry. The main benefits are:

Print tall objects in one piece
Reduced post processing
Stronger models
Big-120Z share similar specs with all other Modix's printers (check here).
Printers share similar electronics, print head and motion system.
These are the unique specifications:
Print Volume: 600 x 600 x 1,200 mm (XYZ)
Machine dimensions: 800 x 800, 2,000 mm
Machine Weight: 80 kg
Closed enclosure – black ACP panels – included
Print head – dual print head – included

Z axis guides- HIWIN MGW Linear Rails – included
Leveling casters – Included
Design principles
Modix version 3.0 continue and strengthen the winning design principles:
Components Dream Team- Version 2.0 offered a balance of price and several premium key components, version 3.0 could be now classified as premium in almost every relevant aspect.
Easier and faster assembly – Assembly time was shorten dramatically. Our target is 1 day assembly and it might take more than one production batch iteration to get there but the new version design allows it. It is now symmetrical in all corners, no more left or right side specific parts. Print head assembly is much easier and overall more intuitive.
Modular design – version 3.0 provides wider hotend selection (V6, Volcano & Super volcano), easier to customize enclosure ACP panels that are easy to drill and cut for any integration need.
New look – version 3.0 design was about cleaning the look , more black, more industrial.
Electronics – Version 3.0 is now shipped with Duet3D, a 32bit electronics board with advanced features for the high end 3D printing. With Duet, changing printer configuration does not require firmware recompilation anymore, all you need is to change a configuration file and restart your printer. The duet is preinstalled with the powerful Trinamic motor drivers that can push a much higher current dynamically and on demand to the stepper motors. No more manual current adjustment, the new Trinamic drivers can dynamically increase power as needed. These drivers can also sense pick power demands that might point on stall such as generated by a clog in the hotend. There are many other features that allows better reliability. i.e. when the board senses a temperature error the print job is now paused instead of halted as compared to Marlin behavior before. With Duet also the power failure resume is available making the Duet upgrade an extremely important update. Duet is developed by Duet3D LTD, a respectable commercial company from the UK. They host an active support forum and many advanced user tutorials and guides on many advanced topics and optional customizations such as macros and hardware extensions.
User interface – With Duet there are new and modern types of user interface. First, is the availability of a large touch screen. It allows easier operation with a touch of a finger while a real time printer status data is being displayed. In addition, the selected default Duet is the WIFI version that allows a full web access from any mobile or desktop. There is an Ethernet version in case a customer needs it. Now you can load a file right from your computer and start your print without leaving your chair.
Motion System – Higher grade of motion system including:
Four Z screws – The Big-60 will now offer four Z screws instead of three. With four Z screws, the bed is much more stable during fast movement and accelerations, resulting in a smoother print surface than before. With four screws the tilt bed calibration is better controlled.
Standard Hiwin rails in Z – In addition to 4 Z Screws, we have now added 4 Hiwin motion rails to Z axis and replace the smooth rods. With the rails, the bed is now attached to the printer frame itself allowing higher print stability especially for very tall objects and fast accelerations.
Higher grade of Hiwin motion rails – For all axis, we are now serving a higher grade Hiwin motion rails. With version 3.0 we provide rails from the MGW series instead of MGN. Hiwin MGW motion rails are wider than MGN, the riding blocks are longer thus providing higher level of stability in all directions.
Drag chain assembly – On the Y axis, the drag-chain is now installed in a reversed position allowing the most of the drag chain weight, that carries the IGUIS cables, to rest on the Y axis profile. This reduces the load from the Y axis motor and also reduce the resonance on X axis as the whole structure is much more stable and tightly secured.
Removal of X shaft – We have replaced the long shaft and geared motor with a simplified dual motor configuration. Each motor is now pulling only one belt (one on the front and another on the back). This makes the assembly, maintenance and even the belt tension a much easier task than before.
All wires are now IGUS – Now also the X, Y & Z axis stepper motors wiring enjoy the same extruder IGUS shielded cables. This reduces electromagnetic noises of the motors to affect the rest of the printer.
Print Head – The new print head was redesigned to allow compatibility with the advanced E3D AERO extruders that eliminated the old long heat sink design. This family of extruders arrives with a much larger but shorter heat sink and a 40mm cooling fan instead of 30mm fan as before. This reduces risk for hotend clogs in a closed chamber printing and with higher temperature melting print scenarios. The latest E3D Hermes extruder is now being examined and will be our primary extruder offering once it will be available by E3D.
Dual direct drive – New dual direct drive setup for dual material printing. A direct drive provides more accurate print results for the support material.
Larger selection of hotends – The new print head configuration is now supporting all three E3D hotend configurations, the standard V6, The high flow Volcano and the new super volcano as well. You can simply slide the BL touch probe and hotend cooling fan up or down and set the new hotend configuration with ease.
Smart 3D Printer:
Clog detection
Power failure resume
Modix Farm web management
Optional Add-ons 
Air filter
Filament Dryer
Modix filament line
Additional print heads (Super volcano / Standard V6)
4 x Z Hiwin rails.
Wheels
Technical Specification (all models):
Printing Technology – FFF (Fused Filament Fabrication)
Delivery – Self assembly kit. Assembly guide includes easy to follow videos and online 3D models that can be rotated and zoomed.
Version – All our printers share the same components (electronics, print head, motion etc..) and are based on Modix BIG-60 version 3.0.
Version 3.0 was introduced at early 2020. For more information about version 3.0 features, please click here
Owners of Modix's printers enjoy upgrades from time to time in both configurations and  hardware.
Comparison Table:
Smooth Rods,

HIWIN – Optional

Smooth Rods,

HIWIN – Optional
In depth Technical Specifications
Solid 40X40 T-slot aluminum profiles
Powder coated laser cut aluminum brackets and joints
Enclosure – Closed enclosure made of 3mm black Aluminum Composite Panels (ACP). Enclosure is an optional add-on for BIG-60 & BIG-120X and a default option for the rest of the models.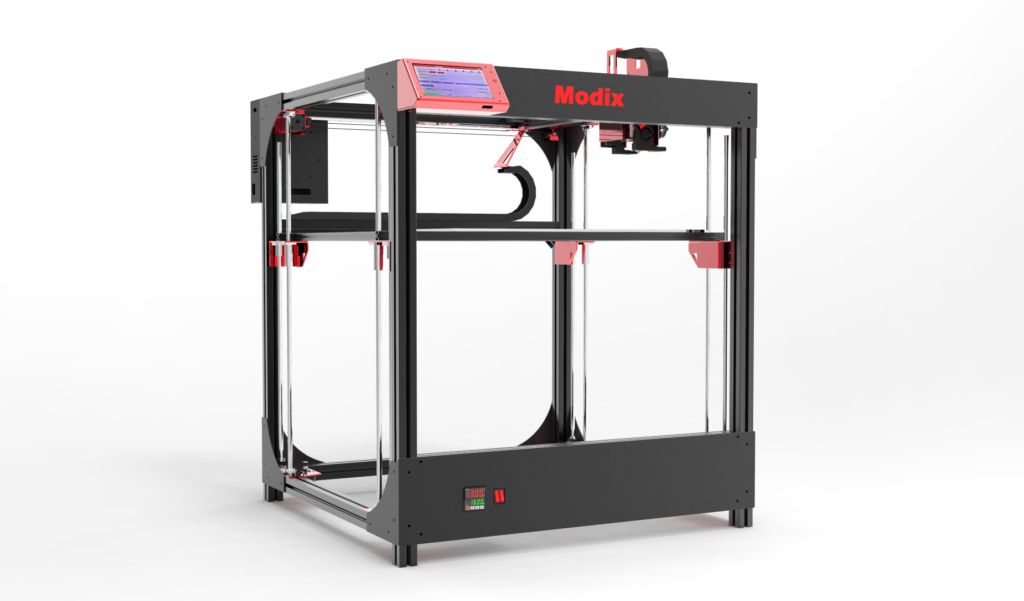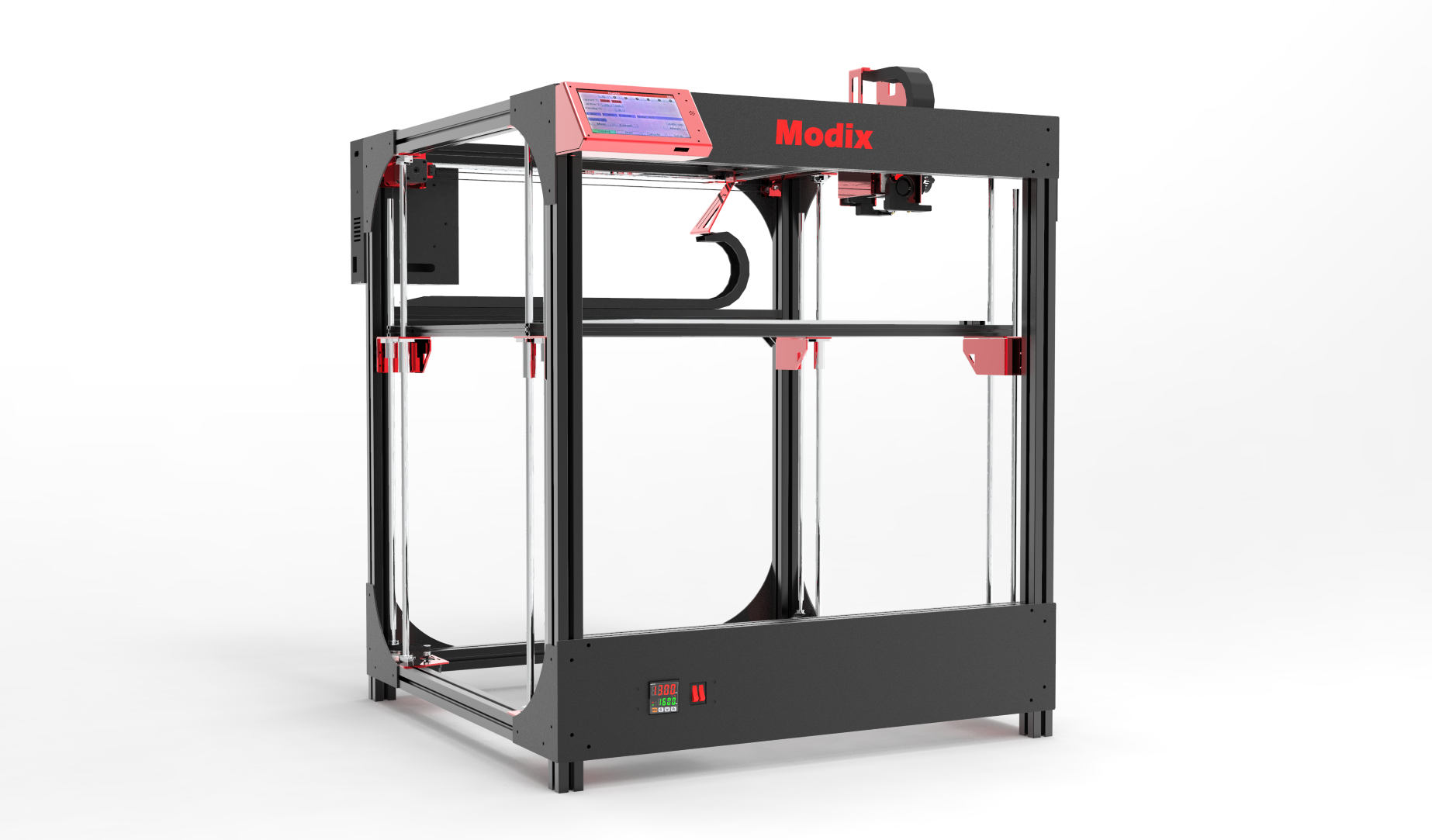 Duet 2 WiFi, a powerful 3D Printer controller made in the UK
Powerful 32 Bit Processor
Dedicated Wifi module with external antenna
Super quiet TMC2660 stepper drivers, up to 256 microstepping.
High speed uSD card and support for a second external SD card if required.
Dual extruders on the main board, up to 5 more extruders on the expansion board.
High Power rating: Each stepper driver is capable of 2.8A motor current, currently limited in software to 2.4A.
Connect via PC, tablet or smartphone on the same network to the on board web interface.
Set up your printer and update the firmware through the web interface.
Expandable up to 7 extruders (requires DUET expansion Board named DUEX 5)with Firmware support for mixing nozzles and remapping axes to use high power external drivers.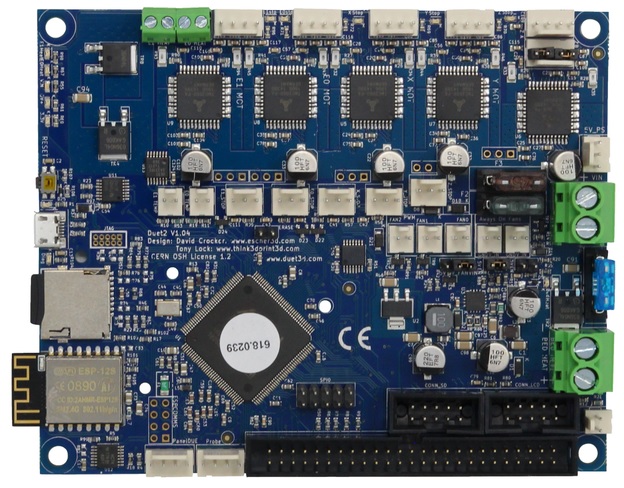 7-inch Duet3d touchscreen – integrated with the controller
WiFi web access for remote control from either mobile or PC allowing users to upload print files directly from their workstation
SD card slot and USB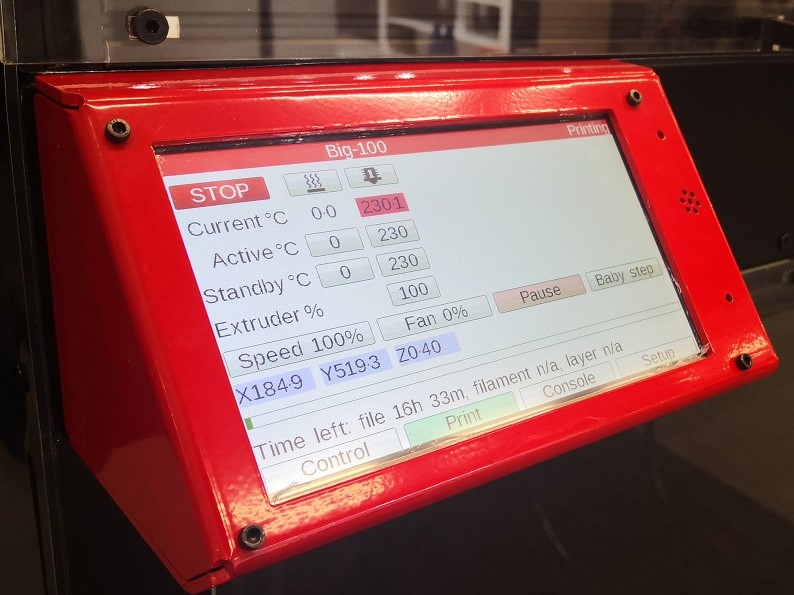 Hiwin MGW9H linear guide rails
Four Z ball screws for Z axis 12mm diameter, 4mm pitch
9 mm width Gates GT2 timing belt, reinforced with fiberglass
Axis Motors: Motech Nema 17 60mm length MT-1705HS200A
| Holding Torque: 114oz.in (8.2kg.cm) | Current / Phase: 2.00A |
Position accuracy: X-10 Micron, Y-10 Micron,  Z-0.5 Micron
Print speed – Normal quality 60 mm/sec, Draft 100 mm/sec, Calculated for 0.4 nozzle. Larger nozzles normally print slower but provide parts much faster due to a reduced number of layers (thicker layer = lower resolution = faster results).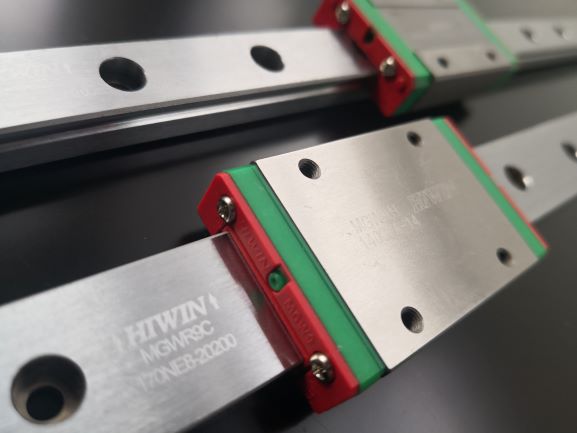 Support both 110V and 230V
For electronics: Meanwell 24V 280W Power Supply

Protections: Short / Over-load / Over-voltage / Over-heating.
No load power consumption<0.5W
LED indicator for power on
Aviation grade switches and connectors

Heat Bed AC powered heater 1370 Watt
PID bed heater controller by Autonic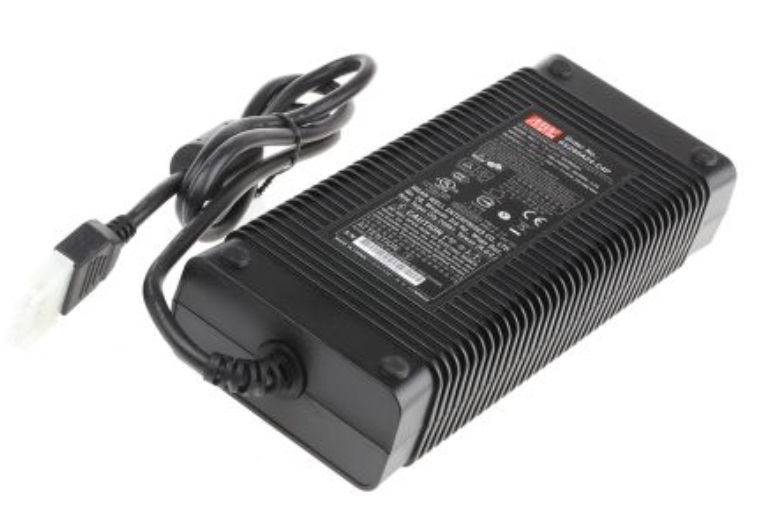 6.35mm thick, Alcoa Mic6 milled cast aluminum plate, made in the USA.
AC powered bed heater 1370 Watt. Requires additional independent 15A AC source.
Dual heating zones. Inner 200X200mm size for small objects and lower power consumption.
Max temperature – 120oc
Print surface – PEI film with 3M high temp adhesive sheet.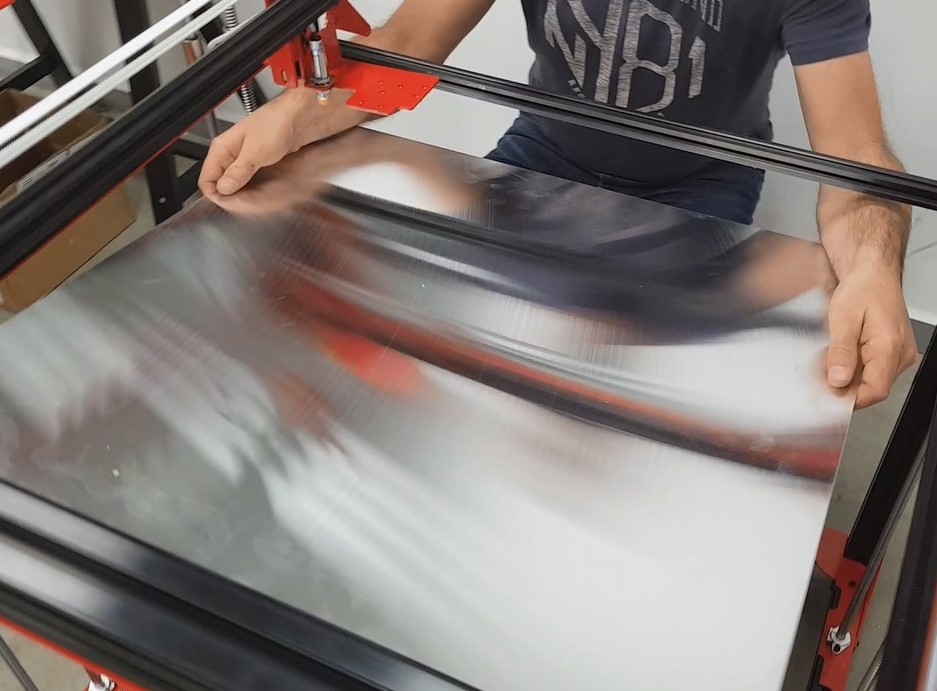 BL touch probe as standard
Probing of bed shape is kept in controller memory and activated before each print.
Probing mesh: Big60 – 100 points, 120X – 200 points.
* The photo below shows the interface of the calibration process. This results shows that a slight move upwards of the rear left bed mount is needed.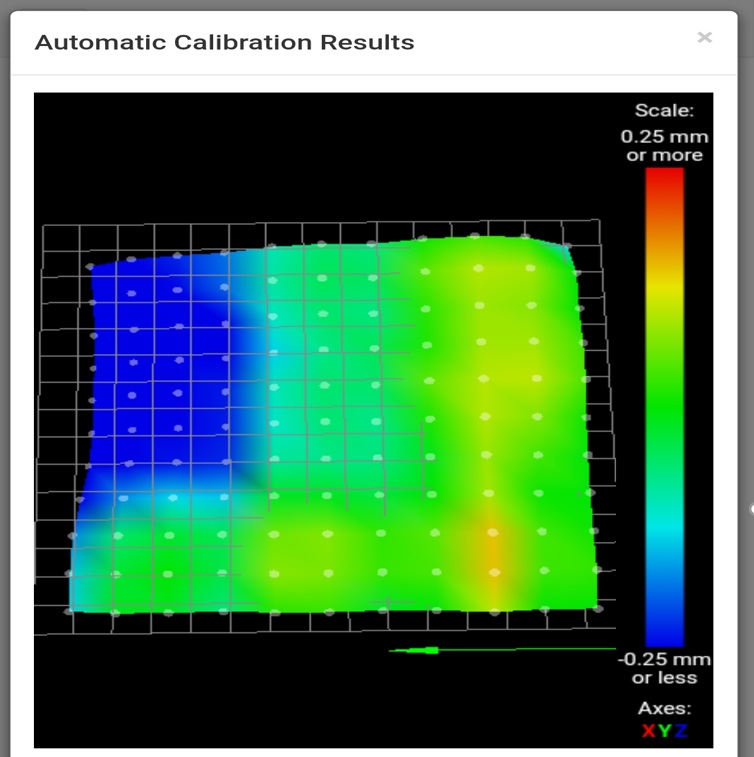 Open source Duet RepRap firmware. The leading firmware for 3D printing allowing numerous configurations and easy customization using the macro system.
One can choose from any available slicer and 3D printer controller including: Slic3r, Cura, and Simplify3d (recommended).
Specific printer configurations are supplied in the customer zone.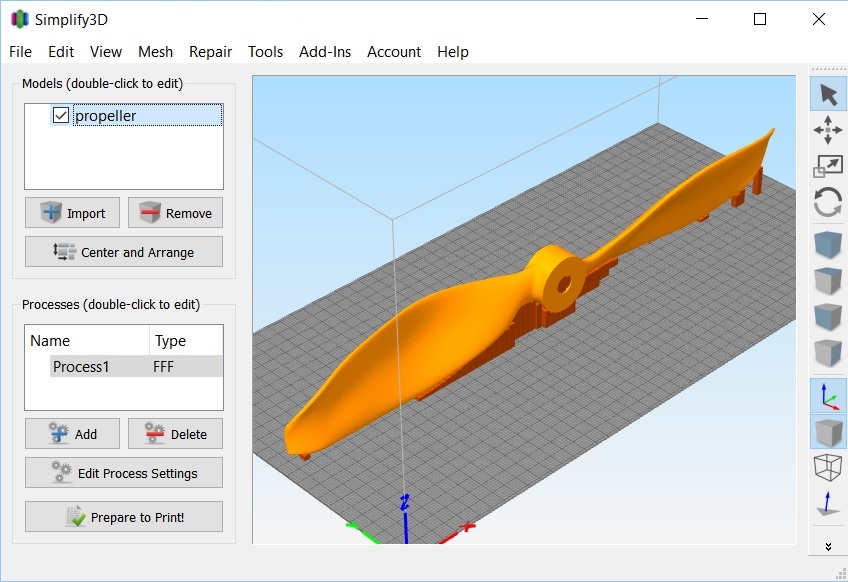 E3D Aero extruder for both primary and secondary extruders.
Configuration: Main – direct drive, secondary – direct drive.
Extruder drive gear ratio 3:1 for power and accuracy.
Nema17 40mm for high power extrusion.
Adjustable tension idler .
Secondary print head is an optional add-on for BIG-60 & BIG-120X.
For any other model, secondary print head is included.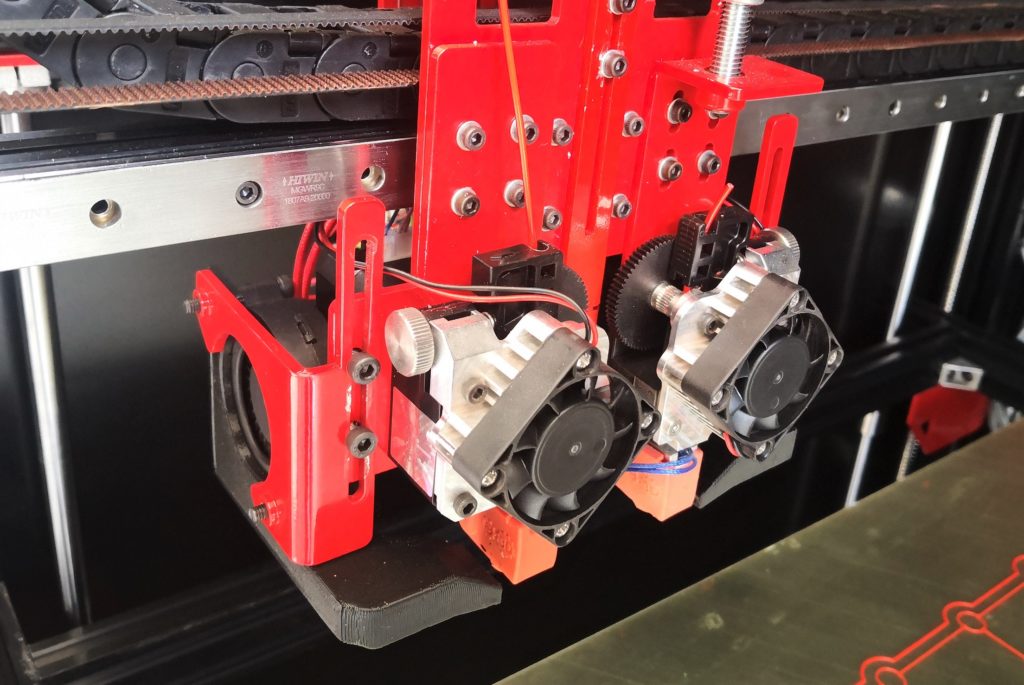 E3D V6 Volcano high-flow heat block – standard.
Optional E3D V6 for very small items with high details or Super Volcano for high-speed high flow prints, and for printing bulky objects (shown at the photo on the right).
The 1.75 mm filament diameter is the default, but the end-customer can change it to 3mm filament.
0.4, 0.6 & 0.8 mm brass Volcano nozzles.
Smaller nozzle diameters are available for the standard V6
Heater cartridge is 24V 40W, max temperature is 285oc by default. Can be converted to a higher temperature of up to 500oc
by end-customer by changing thermistor, if needed.
Part cooling fan – 5015 blower fan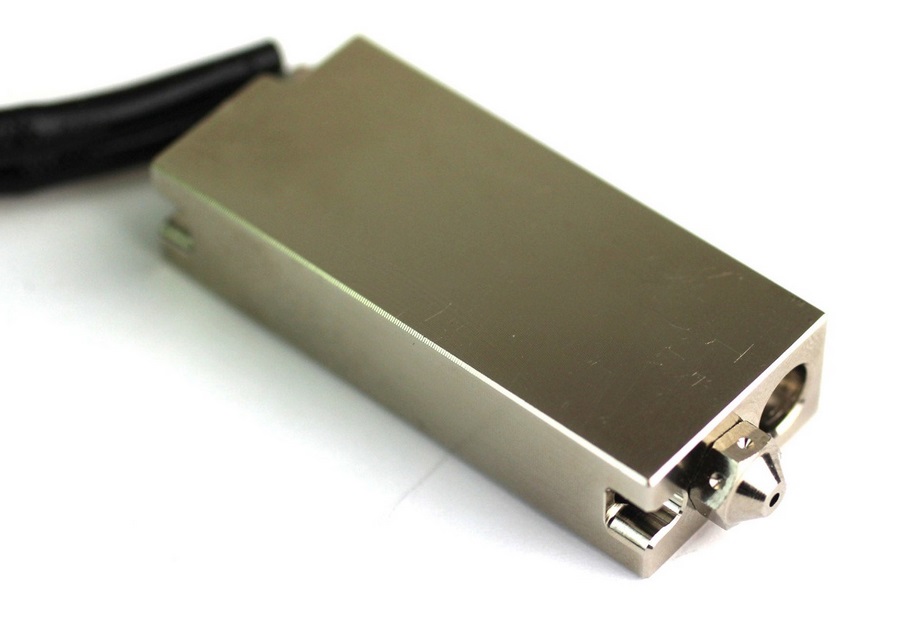 Our printing head supports almost any existing filament including :
PLA, ABS, composites: Carbon fiber, Wood, Copper, Brass, Magnetic, PHA, PVA , Hips, Nylon, TPE & TPU (flexible) Co-Polyester, PETG
Open Filament  – Any filament from any vendor can be used.
Filament Run-Out Sensor – The filament run-out detection sensor will pause the print job when the filament has been used up.